February 12, 2009
A Framework for Exploring the Ethical and Social Issues of Emerging Technologies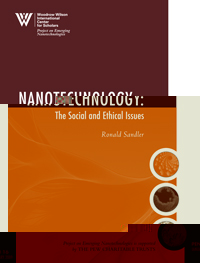 Recent action in Congress to reauthorize the U.S. federal nanotechnology research program offers the chance to address the social and ethical issues concerning the emerging scientific field, experts say.
The report, Nanotechnology: The Social and Ethical Issues, emphasizes ways in which such topics intersect with governmental functions and responsibilities, including science and technology policy, as well as research funding, regulation and work on public engagement.
"It is crucial to address social and ethical issues now as we consider both the substantial potential risks of nanotechnology and its possible significant contributions to our well-being and environmental sustainability," says Ronald Sandler, Northeastern University philosophy professor and author of a new report funded by the Project on Emerging Nanotechnologies and the National Science Foundation.  
The paper provides a framework for addressing the social and ethical issues surrounding nanotechnology, though its scope and approach are intended to be applicable to any emerging technology, including synthetic biology.
For more information and to download the paper visit: The Project On Emerging Nanotechnologies